Scleral & Keratoconus Contact Lenses
At Vision Source – Orland Park, we fit even the most difficult eyes.
We have established expertise in medically necessary contact lenses in cases such as:
complex pre- and post-surgical cases,
Keratoconus,
Pellucid Marginal Degeneration (PMD),
After corneal transplant surgery.  
Scleral lenses are also highly effective for managing debilitating glare many patients experience years after undergoing Radial Keratotomy surgery (R-K).
We use many advanced specialized contact lens designs to give our patients the best attainable result, including: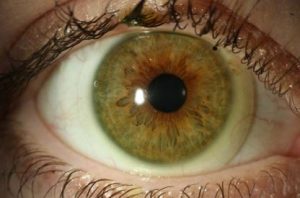 Rose K
Altantis Scleral
Blanchard MSD,
BostonSight Scleral
Custom Stable Elite 
Onefit 2.0 & Onefit MED,
Synergeyes UltraHealth,
Zenlens,
Zen RC,
& many others.
We are pleased to announce that Dr. Joseph DiGiorgio and Dr. Stephanie DiGiorgio are now certified to fit the new BostonSight SCLERAL lenses. These unique scleral lenses are designed based on data gathered from 1,000s of challenging cases involving irregular and diseased corneas used by the Boston Foundation, developers of the PROSE lens.
If you want to wear contact lenses but have had trouble wearing them in the past, or you've been told you are not a good candidate for contacts, large diameter scleral contact lenses may be the solution you are looking for. Scleral Contact Lenses offer many advantages compared to traditional contact lenses, including:
sharper vision,
greater durability,
less risk of complications
and more comfort to protect your sensitive cornea.
They are called "Scleral" lenses because, instead of covering only a portion of the cornea, these scleral contact lenses ride above (vault over) the entire corneal surface and gently rest on the "white" of the eye (the sclera).
Any irregularities in the corneal surface are filled in with a gentle layer of cushioning tear-like liquid that helps provide a smooth clear surface to optimize your vision.
Scleral Contact Lenses are especially helpful for the following conditions:
Irregular corneas. Vision problems like ghosting, halos, double vision, & distortions caused by an irregularly shaped cornea — whether naturally occurring, due to an eye condition such as Keratoconus, Pellucid Marginal Degeneration (PMD) or resulting from eye surgery, such as laser eye surgery complications and Radial Keratotomy (RK) — typically cannot be properly corrected with glasses or soft contact lenses. Scleral Contact Lenses can provide sharper vision for these eyes.
Dry eyes. If your eyes are too dry for conventional contact lenses, Scleral Contact Lenses can help.  In particular, the generous space between the back surface of full scleral lenses and the cornea acts as a tear reservoir to keep the front of your eye more moist and comfortable.  Scleral Contact Lenses can be very help for dry eye caused by Sjögren's Syndrome.
Schedule an appointment today with Dr. DiGiorgio and the team at Vision Source in Orland Park for a custom Scleral Contact Lens evaluation to see the difference scleral lenses make for your eyes.