Comprehensive Eye Exams
We provide complete eye care for children, teens and adults.
As part of your examination, your visual acuity (the sharpness of your vision) will be assessed and a "refraction" will be performed to determine your eyeglass prescription.  We will also assess your focusing ability for reading, how your eyes work together, and their ability to accurately focus at distance and near.   We take pride in the accuracy of our eyewear prescriptions.
Our comprehensive eye health examinations also check your eyes inside and out for glaucoma damage, cataracts and all other eye diseases as well as high blood pressure, diabetes and other systemic diseases.  We will evaluate the inner structures of your eyes, including the retina, macula and optic nerve.
A dilated pupil examination allows us to provide the best assessment of your eye health giving the doctor a  more optimal view of the internal structures of your eyes.  The effects of the dilating drops usually begin to subside after a few hours; however, it is wise to bring good sunglasses to help you see in bright sunlight following a dilated eye exam.  While your eyes are dilated, close work or reading may be difficult, and bright sunlight may be annoying.
Retina, Macula & Glaucoma Care
The Zeiss Cirrus SD-OCT Scanner is an advanced way for us to evaluate the structure of your optic nerve–the connection between your eyeball and brain, and also your macula–the source of your clear central vision.
The Zeiss Cirrus SD-OCT is a laser scanning instrument that scans the eye with light and allows for incredibly detailed evaluation of layers of the retina, macula, optic nerve or cornea.  This instrument is very useful for those patients at risk for glaucoma.  A scan of the retina can evaluate macular thickness, wet or dry macular degeneration, separations, holes, hemorrhages, or raised areas of the macula and retina.  In glaucoma patients or suspects,  we will analyze the Optic Nerve, the Retinal Nerve Fiber Layer and the area called the Ganglion Cell Layer, and we can monitor for changes over time.  We can also measure the front structure of the eye to check for angle closure glaucoma conditions.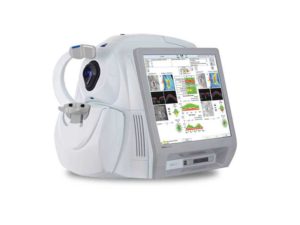 ---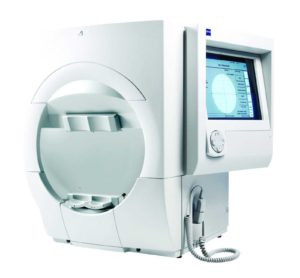 The Zeiss HFA Visual Field Analyzer uses advanced technology to test your peripheral or "side vision".
This test is often used in the diagnosis and treatment of our patients with glaucoma to assess retinal and optic nerve function. We can also quickly evaluate patients with visual disturbances such as sudden loss of side or central vision.
---
We use  Optos Ultra Wide-field Retinal Imaging at our office.  This allows us to digitally document the condition of your eye health.  It also allows our doctors to better explain the condition of your eyes.  More about Optos…
---
The landmark Ocular Hypertension Treatment Study (OHTS), sponsored by the National Institute of Health (NIH), determined that patients with thin corneas and elevated eye pressure are at greater risk of having advanced visual field loss.
We use Ultrasonic Pachymetery for patients at risk for glaucoma based on this OHTS study to measure corneal thickness so we can better profile our patients level of risk for progression to glaucoma related nerve damage.
---
Just let us know when you schedule your appointment, and we'll make sure you are taken care of.
Make healthy vision a priority in your life and in the lives of the ones you love. Schedule a comprehensive eye exam at Vision Source - Orland Park now.