Contact Lenses
Find the right fit for your eyes at Vision Source - Orland Park.
Do you need vision correction but don't want to wear eyeglasses full time? Contact lenses are a great option for almost anyone.
We offer a wide selection at our Orland Park office, and our experienced team of eye care professionals can help you find the right contacts for you.
Call or click to schedule your appointment.
Medically Necessary Contact Lenses
At Vision Source - Orland Park, we fit even the most difficult eyes, including Keratoconus, Pellucid Marginal Degeneration(PMD), R-K glare and more  . . . LEARN MORE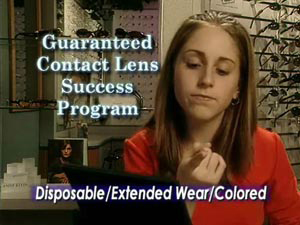 To ensure your complete satisfaction, we offer our GUARANTEED CONTACT LENS SUCCESS PROGRAM.  If you're not completely happy with your contact lenses, return them for a full refund (professional fees are not included). If you're interested in learning more about contact lenses, ask us about our FREE contact lens consultation (does not include actual fitting).
What are my options?
There are many contact lens options available. Your eye care provider will take your lifestyle and vision correction needs into consideration when helping you select the right lenses for your eyes.
Here are some of the most common contact lens types:
Gas-Permeable (GP) Lenses – GP lenses are rigid gas permeable. This means that they are are made of special medical grade polymers that allow oxygen to enter through to the cornea.  GP's can be custom designed to correct many vision conditions.   We use a digital instrument called a corneal topographer to map our patient's eyes and to guide us with optimal designs for each patient.  We can even design a full digital one-of-a-kind lens that perfectly follows the unique shape of each person's cornea.
Soft contact lenses – Soft contact lenses are popular because they are very comfortable for the wearer. Soft lenses can provide correction for near and farsightedness and astigmatism.  Today, with the introduction of newer materials like silicone hydrogels, which allow more oxygen to the eye, patients find it easier than ever to wear soft lenses comfortably.
Disposable soft contact lenses – Intended to be worn for a short time, to help prevent allergic reactions or bacterial infections in sensitive wearers. Disposable lenses are also appropriate for children who might not take excellent care when cleaning their lenses.
Multifocal Contact lenses – Available in both soft and RGP designs, multifocal lenses offer patients both distance and near vision correction just like a pair of bifocal glasses.
Colored contact lenses – These are worn to enhance or completely change your eye color.  They are still prescription contact lenses and need to be treated with the same care you would give to regular lenses.
Need a prescription?
We do that too! Vision Source - Orland Park offers comprehensive eye exams at our Orland Park office. In addition to assessing your visual acuity, your eye care provider will examine your eye health and function.
Schedule a contact lens exam at Vision Source - Orland Park now.