Myopia Control
The Myopia Epidemic
Myopia (nearsightedness) is on the rise.  With our children spending more time in front of screens and less time outdoors, myopia is quickly becoming an epidemic.  50% of the world's population will be myopic by the year 2050.  For more CLICK HERE…
Thankfully, there are now treatments to slow the progression of myopia.
Our doctors are trained in myopia control using specialty contact lenses or eye drops.
If there is any amount of myopia prior to age 11, myopia control strategies are strongly advised.  Increasing exposure time to outdoor sunlight lowers the chance of nearsightedness in children.  If one parent is myopic there is a 25% chance that a child will develop myopia.  If both parents are myopic, that number jumps to 50%.  The following calculators will show your child's potential risk for developing myopia.
See Myopia Risk Calculators and insert your child's actual data:
There are two main FDA Approved technologies for Myopia Management:
Orthokeratology:
Ortho K can be thought of as the vision equivalent of dental braces.  Ortho K lenses are worn at night and gently reshape the surface of the cornea while sleeping.  In the morning, the lenses are removed and eliminate the need for daytime glasses or contact lenses!  This is ideal for active kids who are involved in sports and other activities.  Ortho K lenses are worn nightly to maintain the effect.  Studies show that myopia progression is slowed an average of 40-60% with this method.  Ortho K lenses can be worn by children as young as 7-10 years of age.  The safety and efficacy of Ortho K lenses has been well documented.
Soft Dual-Focus Contact Lenses:
There are special soft contact lenses worn during the day that limit the axial growth of the eye by focusing peripheral light in front of the retina.  This has been clinically proven to slow the progression of myopia.  Our doctors are certified to prescribe MiSight 1-Day contact lenses, which are now FDA approved for Myopia Control.  Carefully controlled 3, 5 & 7 years studies show that axial elongation is slowed an average of 59% with this method.  MiSight lenses are part of our Brilliant Futures program.  For more information click here...

MiSight vs. Ortho Keratology: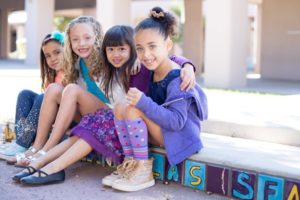 Studies show that both Ortho K and MiSight can slow the rate of myopia progression in children by an average of 50%, compared to wearing single-vision lenses. As with any health treatment, there is individual variability in treatment outcomes — some patients may achieve better than expected results, and others less.
Ortho K and MiSight are both excellent treatment options for children with myopia. Both are very effective at slowing the worsening of their eyesight, and certainly more beneficial than wearing regular single vision glasses.
The option that is best for your child will depend on a number of factors: level of myopia and astigmatism, eye shape, pupil size, eye sensitivity, the child and parents' motivation, personal hygiene, compliance, lifestyle and sporting activities, and ease of use.  For full article at My Kids Vision by the Myopia Profile Click Here…
Some children with myopia may not meet the specific FDA criteria for the above methods or may be unable to wear contact lenses.  In these cases, atropine therapy eye drops may be considered.